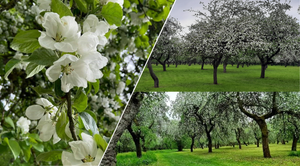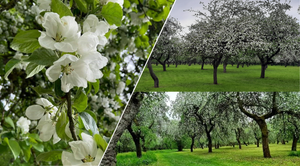 more than 650 apple trees in bloom 
didinga XVII a kunigaikščių istorija
CHÂTEAU DE PONIEMUN


the great history of the 17th century
- a special part of our life, which has born from love of nature and history. Historical château renovation project has come to us few years ago, on the same time as PURE FLAME brand creation started. Both of these activities give meaning to joy of life, encourage inspiration to create, ensure preservation and continuity of heritage, involve to meaningful and precious life adventure.
Žemosios Panemunės dvaras – pamiršti Sapiegų rūmai, slepiantys didingą beveik 400 metų istoriją. Barokiniai rūmai buvo pastatydinti apie 1650 m, jie priklausė kunigakščių Sapiegų, Čartoriskių, grafų Tiškevičių giminėms, kurios giminiavosi su iškiliausiomis to meto Europos aristokratų šeimomis. Šiuose rūmuose savo jaunystę praleido paskutiniojo ATR karaliaus Stanislavo Augusto Poniatovskio motina, princesė Konstancija Čartoryska. Didingų rūmų griuvėsiuose vis dar galima aptikti buvusios prabangos pėdsakų - įspūdingos sienų ir lubų puošybos fragmentų, įamžinusių čia XVII-XVIII a. dirbusių italų, šveicarų dailininkų meistriškumą.
NATURE
Today, the manor farm covers an area of 18 hectares, 663 old apple trees bloom here in the spring and the manor is drowned in a sea of white blossoms. It is an open space for anyone who wants to enjoy relaxation in the natural haven of nature.
LONG HISTORY
Château de Poniemun
is located on the high slope of the Nemunas River between two mounds Human activity has been recorded here since the 9th century
LEARN MORE
SPACES FOR CREATION AND ACTIVITIES
Kultūros paveldas - visų mūsų turtas. Džiaugiamės dalindamiesi, bendraudami ir bendradarbiaudami. Kviečiame atrasti nestandartines istorines bei gamtos erdves. Susisiekime: info@zpdvaras.lt, +37067465110
CONTACT US