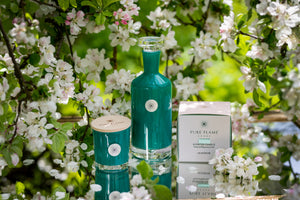 We are the largest and oldest manufacturer of decorative candles in Lithuania, a family business which already lasts for 27 years. Mastery and knowledge are passed down from generation to generation - the third generation of the family is currently learning the secrets of production.
As people around the world increasingly turned to ecology, sustainability and preservation of natural resources, we have also been looking for innovative materials for candle production, thus discovering the most sustainable option - natural rapeseed (canola) wax. We have no doubt that with the growing awareness of people and businesses in the near future, rapeseed wax, due to its properties and beeing sustainable choice, will replace the soy or palm wax still widely used today. We are glad to be the first in Lithuania to offer this sustainable choice!
Our values
PASSION
French origin luxury scents
MASTERY AND CRAFTSMANSHIP
from generation to generation (third generation starts working in business)
RESPECT
FURE FLAME has combined luxury fragrances from a French fragrance houses and craftsmanship since 1994.
PURE FLAME's vision is to create better products for a better tomorrow. Only the purest and most natural materials are selected for all products.
Rapeseed wax
Particularly strong aroma spread due to the use of NATURAL RAPESEED WAX.
WHY rapeseed wax?

RAPESEED WAX has the strongest aroma scattering properties compared to other types of natural wax. Therefore, the chosen aroma will richly fill the desired space.
RAPESEED WAX is the most environmentally friendly natural vegetable wax. By choosing rapeseed wax, you are helping to preserve the Amazon rainforest.
RAPESEED WAX - A SUSTAINABLE CHOICE:
- Renewable source from ethical European farms.
- Be GMO
- Does not emit any harmful substances.
- Provides longer burning time.
FRENCH aromas in rapeseed wax candles or stylish home diffusers will create an indescribable OASIS OF PLEASURE in the chosen space. 
Evoke uncompromised pleasure around You. 
PURE FLAME is the first scented rapeseed wax candles in Lithuania.
Exclusive candle and diffuser containers
Each PURE FLAME collection stands out with its own unique character, which is embodied and revealed by specially designed vessels:
DELUXE collection candle vessels are made of high-quality crystal - 24% lead crystal. This is a collection of special luxury - intended to be a special gift on a special occasion. The crystal crystal vessel is unique - each is made, processed and engraved by the hands of experienced craftsmen. The highest class crystal is a symbol of luxury and special, exclusive craftsmanship.
The design of candles and home perfume diffusers in ADORE collection stands out with their elegant yet playful shapes and colors. The design of the ADORE collection invites you to enjoy life here and now, to enjoy the charm of this moment. Shapes are very classic at first glance, but on closer look you will see that they are a little rebellious for complete regularity. The upper part of the vessel is cut at an angle that forms a small slope - thus expressing the elegance of the classic, enlivened by a little playfulness and originality. Home perfume diffusers also have an elegant, graceful silhouette, and also has playful uniqueness - the glass bubble blown into the bottom of each home perfume diffuser calls add some palyfulness on your daily life!
DU VIN collection candle vessel is made of real champagne bottle! It's hard to believe - turn around, look at the bottom and see! It is interpretation of SABRAGE - the so-called luxurious and exclusive opening of champagne with a sword to create an indelible impression! DU VIN vessels are half-cut champagne bottles, inviting you to talk and think about the idea of sustainability, the opportunity to reuse already used items for new purpose.
CREATE YOUR OWN WELLBEING OASIS!
PURE FLAME with the help of scents and shapes aims to unleash your personal power to create a better tomorrow, full of joyful emotions and unconditional pleasure.